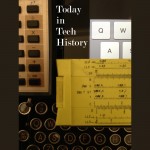 1900 – John F. Pickering of Haiti received a US patent for his design of an airship.
1962 – Following the USSR, the United States put its first man into orbit. John Glenn piloted the Mercury-Atlas 6 Friendship 7 spacecraft to a successful conclusion of the mission.
1986 – A Soviet Proton launcher boosted the base block of the Mir space station into orbit.
2004 – Apple's first iPod Mini arrived in Apple retail stores and online. It was the first size variation of the iPod.
2013 – Sony announced the PlayStation 4 without giving out price or even showing what the hardware would look like.
Read Tom's science fiction and other fiction books at Merritt's Books site.