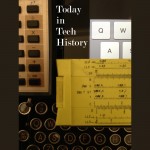 1046 – English monks recorded "no man then alive could remember so severe a winter as this was." Their analog weather blog entry recorded the beginning of the Little Ice Age.
1931 – Friedrich Schmiedl launched the first rocket mail (V-7, Experimental Rocket 7) with 102 pieces of mail between Schöckl and St. Radegund, Austria.
1935 – Detective Leonarde Keeler, co-inventor of the Keeler polygraph, tried out the lie detector on two suspected criminals in Portage, Wisconsin. Both suspects were convicted of assault.
Read Tom's science fiction and other fiction books at Merritt's Books site.