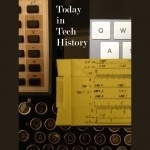 In 1880 – 30 engineers from eight states met in the New York editorial offices of the American Machinist to found the American Society of Mechanical Engineers.
In 1968 – The first-ever 911 call was placed by Alabama Speaker of the House Rankin Fite from Haleyville City Hall to US Rep. Tom Bevill at the city's police station.
In 1978 – After a particularly harsh January gave them plenty of time for programming, Ward Christensen and Randy Suess completed the Computerized Bulletin Board System (CBBS) in Chicago. It was the first BBS.
Like Tech History? Get the illustrated Year in Tech History at Merritt's Books site.