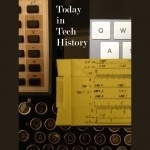 In 1949 – A modified German V-2 ballistic missile launched from White Sands Missile Range in New Mexico, reaching an altitude of 244 miles, and putting it well above the Kármán line. It was the first US rocket to reach "outer space."
In 1955 – A boy was born to University of Wisconsin graduate students Joanne Simpson and Abdulfattah Jandali. He was given up for adoption and taken in by a machinist and his wife in Mountain View, California. They named him Steve Jobs.
In 2011 – The Space Shuttle Discovery lifted off from Cape Canaveral on its final mission.
In 2014 – Samsung announced the Galaxy S5 with a heart rate sensor and water and dust proofing.
Subscribe to the podcast. Like Tech History? Get the illustrated Year in Tech History at Merritt's Books site.