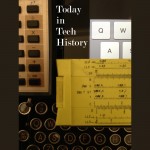 1962 – Ferranti Ltd. switched on the Atlas, the UK's first supercomputer. It was the most powerful computer in the world at the time and doubled the UK's scientific computing capability.
http://googlepolicyeurope.blogspot.com/2012/12/remembering-ferranti-atlas-uks-first.html
1963 – The CBS broadcast of the college football game between Army and Navy featured the first use of video instant replay during a sports telecast. Some people got confused and called to complain.
http://reviews.cnet.com/8301-19727_7-57337961-10170017/the-birth-of-instant-replay/
1972 – The last Apollo moon mission, Apollo 17 was launched. The crew took the famous Blue Marble picture that now graces desktop background everywhere.
http://www.nasa.gov/mission_pages/apollo/missions/apollo17.html
1999 – The Recording Industry Association of America sued 6-month-old Napster. The Industry refused to settle, thus insuring that digital music sales would remain low for years to come.
http://news.cnet.com/Recording-industry-sues-music-start-up,-cites-black-market/2100-1023_3-234092.html
Read Tom's science fiction and other fiction books at Merritt's Books site.