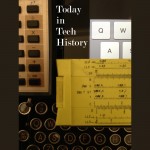 1766 – James Christie held his first sale on Pall Mall in London. Christie's still operates auctions today and is much more civilized than EBAY.
http://www.christies.com/features/welcome/
1901 – At 2156 Tripp Avenue in Chicago, Elias and Flora welcomed their new baby boy into the world. They had no idea at the time that Mickey Mouse had also come into the world along with their son, Walt Disney.
http://www.justdisney.com/walt_disney/biography/w_bio_short.html
1901 – Physicist Werner Heisenberg was born. We may not know both his precise position and precise momentum at the same time, but we are certain he was born in Wurzburg, Germany.
http://www.nobelprize.org/nobel_prizes/physics/laureates/1932/heisenberg-bio.html
2014 – NASA's Orion space capsule made its first successful test flight. The capsule was unmanned but made two orbits before successfully splashing down in the Pacific.
http://www.nasa.gov/content/orion-performance-showcases-exploration-abilities/#.VISRfqTF8ww
Read Tom's science fiction and other fiction books at Merritt's Books site.