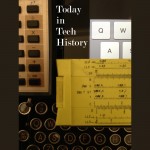 1985 – The Cray X-MP/48 began operation at the San Diego Supercomputer Center. It almost doubled the speed of other machines with a parallel processing system, which ran at 420 megaflops.
http://www.computerhistory.org/tdih/December/4/
1996 – General Motors began delivery of the EV1, an electric vehicle that would become well-loved by its drivers then be taken back in 2002 and sent to car-crushers.
http://www.wired.com/thisdayintech/2009/12/1204gm-ev1-electric-car/
1998 – The space shuttle Endeavour lifted off from Cape Canaveral, carrying the first American-built component of the International Space Station, a connecting node, known as Unity.
http://www.nasa.gov/mission_pages/shuttle/shuttlemissions/archives/sts-88.html
Read Tom's science fiction and other fiction books at Merritt's Books site.