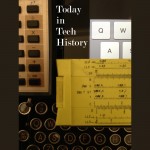 1791 – At 44 Crosby Row, Walworth Road, London, England, (we think), Betsy and Benjamin welcomed their son Charles Babbage into the world. He would grow up to make a difference– engine.
1933 – Edwin Armstrong received a patent for his method of eliminating static in a radio broadcast using frequency modulation. He would license out the technology but many companies would embrace FM radio without his permission and he spent much of his later life battling in court.
1982 – Time's January 3rd issue arrived on newsstands with the computer on the cover as Machine of the Year. It was the first non-human to gain the honor since the Man of the Year concept started in 1927 with Charles Lindbergh.
Read Tom's science fiction and other fiction books at Merritt's Books site.