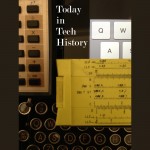 1666 – Seven mathematicians and seven physicists gathered by Jean-Baptiste Colbert met in the king's library to found the French Academy of Sciences.
1882 – Edward H. Johnson of the Edison Illumination Company strung a single power cord with red white and blue lights on his Christmas tree becoming the first person to use Christmas tree lights.
1885 – A patent for a gravity switchback railway was issued to La Marcus Thompson of Coney Island, New York. You and I might call it a "roller coaster."
1968 – At 3:01 PM Eastern time, Apollo 8 transmitted the first US. live telecast from a manned spacecraft in outer space.
Read Tom's science fiction and other fiction books at Merritt's Books site.