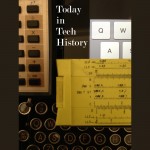 1953 – Dudley Buck entered the idea for the Cryotron into his MIT notebook. The cryotron is a four-terminal superconductive computer component.
http://www.ieeeghn.org/wiki/index.php/Cryotron
1965 – Gemini 6A, crewed by Wally Schirra and Thomas Stafford launched from Cape Kennedy, Florida. Four orbits later, it achieved the first space rendezvous, with Gemini 7.
http://nssdc.gsfc.nasa.gov/nmc/spacecraftDisplay.do?id=1965-104A
1994 – Netscape shipped version 1.0 of the Netscape Navigator Web browser.
http://books.google.com/books?id=_mrTMHwTrGwC&pg=PA169&lpg=PA169&dq=december+15+1994+netscape&source=bl&ots=Sy7G8GTqVz&sig=euKOXIILquJ_UwbRLFax5m6O9_I&hl=en&sa=X&ei=meCkUqz2E9DaoASE1YG4AQ&ved=0CGgQ6AEwBw#v=onepage&q=december%2015%201994%20netscape&f=false
Read Tom's science fiction and other fiction books at Merritt's Books site.