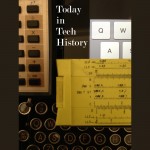 1962 – NASA "Relay 1" launched, the first active repeater communications satellite in orbit.
http://nssdc.gsfc.nasa.gov/nmc/spacecraftDisplay.do?id=1962-068A
1977 – Young Bill Gates was arrested for a traffic violation in Albuquerque, New Mexico, leading to one of the most famous mugshots ever.
http://archive.boston.com/business/technology/gallery/MicrosoftTheEndofTheBillGatesEra?pg=3
1977 – Robert Metcalfe et. al were awarded a patent for "Multipoint data communication system with collision detection" also known as ethernet.
http://www.google.com/patents?id=Szg6AAAAEBAJ&printsec=abstract&zoom=4#v=onepage&q&f=false
Read Tom's science fiction and other fiction books at Merritt's Books site.