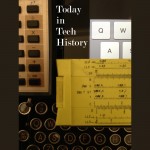 1847 – The London and North Western Railway along with the Caledonian Railway adopted London Time on instructions from the General Post Office. Other railways followed suit and this was seen as the establishment of the first time zone.
https://www.timeanddate.com/time/uk/time-zone-background.html
1913 – Henry Ford added the moving-chassis assembly line to produce Model T's in his Highland Park, Michigan factory. It was the crowning glory in his attempts to increase efficiency and production.
http://www.history.com/this-day-in-history/fords-assembly-line-starts-rolling
1977 – Time Warner launched QUBE in Columbus, Ohio, the first two-way interactive cable system. One of its channels called "The Pinwheel" would later be relaunched as Nickelodeon.
http://books.google.com/books?id=9uFT080FcRkC&pg=PA62&lpg=PA62&dq=qube+december+1+1977&source=bl&ots=AJ6f6oJ_JC&sig=esXBFvlqHhE0ErMUOTFdklUSHDs&hl=en&sa=X&ei=Yp2SUpnlLI_UoAS-hYGgAg&ved=0CFsQ6AEwBQ#v=onepage&q=qube%20december%201%201977&f=false
Read Tom's science fiction and other fiction books at Merritt's Books site.