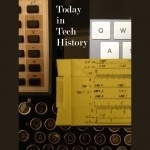 In 1962 – NASA "Relay 1" launched, the first active repeater communications satellite in orbit.
In 1977 – Young Bill Gates was arrested for a traffic violation in Albuquerque, New Mexico, leading to one of the most famous mugshots ever.
In 1977 – Robert Metcalfe et. al were awarded a patent for "Multipoint data communication system with collision detection" also known as ethernet.
Subscribe to the podcast. Like Tech History? Get the illustrated Year in Tech History at Merritt's Books site.