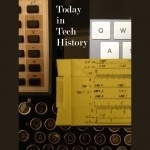 In 1858 – The west end of the first transatlantic cable was completed when the ship Niagara anchored at the Newfoundland coast having laid 1,016 miles of telegraph cable.
In 1914 – The American Traffic Signal Co. installed their first electric traffic light at East 105th street and Euclid Avenue in Cleveland, Ohio.
In 1921 – The first radio broadcast of a baseball game happened on KDKA from Pittsburgh's Forbes Field. Harold W. Arlin announced the game between the Pittsburgh Pirates and the Philadelphia Phillies.
In 2012 – The Mars Science Laboratory, known as the Curiosity Rover successfully landed on the surface of Mars in one of the most complicated automated landings ever, involving a sky crane.
In 2014 – Justin.TV announced its closure. It had started as a lifecasting channel for Justin Kan and spawned the massively successful Twitch video game streaming channel.
Like Tech History? Get the illustrated Year in Tech History at Merritt's Books site.