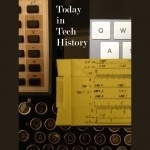 1921 – The first facsimile was transmitted by radio across the Atlantic Ocean using the Belinograph invented by Edouard Belin. A message written by C. V. Van Anda, managing editor of The New York Times and addressed to the Matin in Paris, was sent in seven minutes.
http://todayinsci.com/B/Belin_Edouard/Belinogram1921-NYT.htm
1988 – A computer halted an engine test in preparation for the launch of the space shuttle Discovery. The flight would be the first since the Challenger explosion in 1986.
http://www.computerhistory.org/tdih/August/4/
2007 – NASA's Phoenix spaceship launched on its mission to survey the Martian Arctic in search of water, geological discoveries, and evidence of conditions for biological life.
http://www.nasa.gov/mission_pages/phoenix/launch/index.html
Read Tom's science fiction and other fiction books at Merritt's Books site.