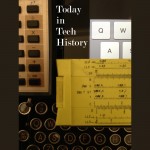 1831 – Michael Faraday discovered electromagnetic induction, which is used in power generation and power transmission by generators, transformers, induction motors, electric motors, synchronous motors, and solenoids.
1965 – Astronaut L. Gordon Cooper, orbiting 100 miles above the Earth in Gemini 5 talked with aquanaut M. Scott Carpenter in Sealab II, 205 feet below the surface of the Pacific Ocean. It happened to be Cooper's wedding anniversary.
1990 – The British Computer Misuse Act went into effect. The Act resulted from a long debate in the 1980s over failed prosecutions of hackers.
1997 – Marc Randolph and Reed Hastings founded Kibble Inc. The service initially let you rent individual DVDs by mail without late fees. There was no subscription service and no streaming. And the service was later renamed Netflix.
2003 – Niklas Zennström and Janus Friis founded Skype, the Voice over Internet Provider that would go on to dominate the space.
2005 – Music service Pandora left preview and became open for all to use.
Read Tom's science fiction and other fiction books at Merritt's Books site.