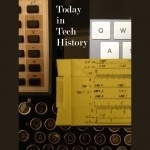 1845 – Scientific American began publication with the issue for this day. It would become the oldest continuously published magazine in the United States.
http://onlinebooks.library.upenn.edu/webbin/serial?id=sciam
1991 – The crew of the Space Shuttle Atlantis sent an electronic mail message using AppleLink. The message read: "Hello Earth! Greetings from the STS-43 Crew. This is the first Applelink from space. Having a GREAT time, wish you were here!"
http://www.computinghistory.org.uk/det/6115/First%20E-mail%20From%20Space%20Is%20Sent%20from%20a%20Mac%20Portable
2009 – Apple released Mac OS X 10.6 Snow Leopard featuring many minor improvements and integration with Microsoft Exchange.
http://www.apple.com/pr/library/2009/08/24Apple-to-Ship-Mac-OS-X-Snow-Leopard-on-August-28.html
2017 – Amazon acquired the Whole Foods grocery store chain and immediately set about cutting prices.
https://www.bloomberg.com/news/articles/2017-08-28/amazon-cuts-prices-at-whole-foods-as-much-as-50-on-first-day
Read Tom's science fiction and other fiction books at Merritt's Books site.