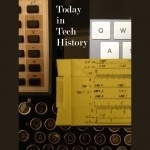 1938 – A New York radio station first used the Philips-Miller system of tape recording on a radio broadcast.
http://books.google.com/books?id=G2wGxDT0f2MC&pg=PT526&lpg=PT526&dq=tape+1938+august+26+WQXR&source=bl&ots=Kkuw9uJ6U7&sig=74PYEzrL1Xph_B5PL7ffmuyXcp0&hl=en&sa=X&ei=Tr8JUNXJNO3k2wWkmsDABw&ved=0CGAQ6AEwAA#v=onepage&q=tape%201938%20august%2026%20WQXR&f=false
1984 – Miss Manners confronted her first computer issue. The columnist responded to a reader's concern about typing personal correspondence on a personal computer.
http://www.computerhistory.org/tdih/August/26/
1996 – Netscape Communications Corp. announced it had partnered with several other big companies to create a software company called Navio Corp. Navio was meant to create an operating system to compete with Windows.
http://www.sfgate.com/business/article/Netscape-Startup-Navio-Focuses-on-Non-PC-Users-2969143.php
Read Tom's science fiction and other fiction books at Merritt's Books site.