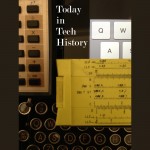 1456 – According to a handwritten note by illustrator Heinrich Cremer, the final binding of the Gutenberg Bible took place.
http://books.google.com/books?id=YOXt9dVq9EcC&pg=PA126&lpg=PA126&dq=august+24+1456+gutenberg&source=bl&ots=jcDMkkfxNp&sig=ctz_I-jiUtq_lpMtok5oHA2I_EA&hl=en&sa=X&ei=jBcHUIucFqOw2wXgv53IDw&ved=0CFgQ6AEwCDgU#v=onepage&q=august%2024%201456%20gutenberg&f=false
1965 – Ted Nelson presented a paper called "A File Structure for the Complex, the Changing and the Indeterminate" at the Association for Computing Machinery. In it he used the word "hypertext" a term he made up.
https://gigaom.com/2015/08/24/hypertext-50/
1995 – Microsoft released Windows 95. During development it was referred to as Windows 4.0 or by the internal codename "Chicago."
http://www.zdnet.com/article/microsofts-windows-95-launched-20-years-ago-today/
2001 – WebKit received its first commit of code from Apple. The Safari browser appeared two years later and WebKit was open sourced in 2005.
http://www.engadget.com/2011/08/25/webkit-turns-10-celebrates-a-decade-of-speedy-standards-compli/
2011 – Steve jobs resigned as CEO of Apple, handing over the job to Chief Operating Officer Tim Cook.
http://money.cnn.com/2011/08/24/technology/steve_jobs_resigns/
Read Tom's science fiction and other fiction books at Merritt's Books site.