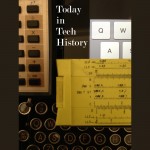 1852 – The first time signals were transmitted by telegraph from the Royal Observatory in Greenwich.
1966 – Lunar Orbiter 1 took the first photograph of Earth from orbit around the Moon.
1993 – Nintendo agreed to use Silicon Graphics Inc. technology in a video game player it was developing.
2012 – Microsoft unveiled a new logo for the first time in 25 years, opting for simple squares of color and block type with an overlapping 'f' and 't'.
2013 – Microsoft CEO Steve Ballmer announced he would retire within the next 12 months.
Read Tom's science fiction and other fiction books at Merritt's Books site.