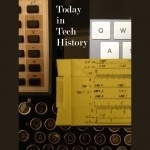 In 1989 – A solar flare created a geomagnetic storm that caused three hard drives to fail in an otherwise fault-tolerant system at the Toronto Stock Exchange. This prevented access to critical market data, leading the exchange to be shut down for three hours.
In 1993 – Ian Murdock announced the Debian Linux distribution system. The name combined his then girlfriend Debra's name with his own, Deb-Ian. And now you know how to properly pronounce it.
In 1994 – The IBM Simon went on sale, combining a mobile phone with computer functions. It weighed 500 grams, could run apps and be linked to a fax machine, selling for $899. The word smartphone hadn't even been coined yet.
In 1995 – The first version Microsoft's Web browser, Internet Explorer 1, debuted. It was based on Mosaic, which Microsoft had licensed from Spyglass Inc.
In 2011 – Xiaomi launched their first phone, the M1 or 'Xiaomi Phone' with a 1.5 GHz dual core chip and 1 GB of RAM for ¥1,999.
Like Tech History? Get the illustrated Year in Tech History at Merritt's Books site