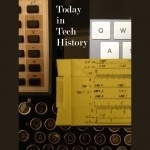 In 1456 – According to a handwritten note by illustrator Heinrich Cremer, the final binding of the Gutenberg Bible took place.
In 1995 – Microsoft released Windows 95. During development it was referred to as Windows 4.0 or by the internal codename "Chicago."
In 2001 – WebKit received its first commit of code from Apple. The Safari browser appeared two years later and WebKit was open sourced in 2005.
Subscribe to the podcast. Like Tech History? Get Tom Merritt's Chronology of Tech History at Merritt's Books site.