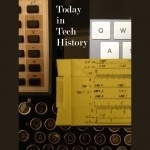 In 1852 – The first time signals were transmitted by telegraph from the Royal Observatory in Greenwich.
In 1966 – Lunar Orbiter 1 took the first photograph of Earth from orbit around the Moon.
In 1993 – Nintendo agreed to use Silicon Graphics Inc. technology in a video game player it was developing.
In 2012 – Microsoft unveiled a new logo for the first time in 25 years, opting for simple squares of color and block type with an overlapping 'f' and 't'.
In 2013 – Microsoft CEO Steve Ballmer announced he would retire within the next 12 months.
Subscribe to the podcast. Like Tech History? Get Tom Merritt's Chronology of Tech History at Merritt's Books site.