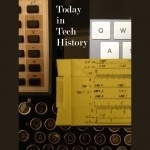 1884 – The New York Times reported that "sending mails by electricity" was to be investigated by the Post Office Committee of the US House, by providing for contracts with an existing telegraph company. The article promised it could lead to 10 cent telegrams!
http://query.nytimes.com/gst/abstract.html?res=9803E3DA1138E033A25755C2A9629C94659FD7CF
1970 – The Convention Establishing the World Intellectual Property Organization entered into force.
http://www.wipo.int/ip-outreach/en/ipday/
1986 – Design flaws made worse by human error during a safety test, led to the worst nuclear disaster yet, and a partial meltdown at the Chernobyl Nuclear Plant.
http://www.world-nuclear.org/info/Safety-and-Security/Safety-of-Plants/Chernobyl-Accident/#.Ud7xfz54Zvg
1999 – RePlay TV began shipping the first Digital Video Recorder. It could pause and rewind live TV as well as schedule shows to be recorded. Models ranged from being able to store 6 hours to 26 hours of recorded shows.
https://books.google.com/books?id=DnjwTdlpsekC&pg=PT11&lpg=PT11&dq=replaytv+april+1999&source=bl&ots=Y2SJbfViMA&sig=5ZFQ5SAFV5C5tUPnU7MVas8Vmb0&hl=en&sa=X&ved=0ahUKEwii5dHQidrLAhVU3GMKHVavDRQQ6AEILTAD#v=onepage&q=replaytv%20april%201999&f=false
2014 – A team of archaeologists hired by Fuel Entertainment and Xbox Entertainment Studios uncovered a pile of buried Atari E.T. games in a landfill in Alamogordo, New Mexico. The games were dumped 31 years before after the game flopped in sales.
http://arstechnica.com/gaming/2014/04/landfill-excavation-unearths-years-of-crushed-atari-treasure/
Read Tom's science fiction and other fiction books at Merritt's Books site.