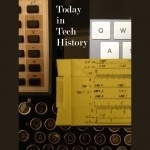 1592 – Wilhelm Schickard was born. He would grow up to create an early form of calculating machine called the "calculating clock", that could add and subtract up to six-digit numbers.
1993 – NCSA Mosaic 1.0 was released, becoming the first web browser to achieve popularity among the general public.
2000 – The Big Number Change took place in the United Kingdom, changing how phone numbers were dialed in many areas. With the boom in mobile devices, the UK had almost exhausted all possible numbers, and needed the change to increase the pool of numbers to be assigned.
Like Tech History? Get the illustrated Year in Tech History at Merritt's Books site.