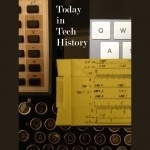 1936 – German computer pioneer Konrad Zuse filed for a patent for the automatic execution of calculations, and described combination memory, an early form of programmable memory. Zuse was working on what would become Germany's first computer, the Z-1.
http://books.google.com/books?id=emmitTbOoFgC&pg=PA74&lpg=PA74&dq=%22april+11%22+1936+konrad+zuse&source=bl&ots=FiErE_FGVF&sig=G7iEg5nPuhSK4afsnpcyb7EgcWM&hl=en&sa=X&ei=rvZcUey7LKqdiALMrYDQBQ&ved=0CC8Q6AEwADgK#v=onepage&q=%22april%2011%22%201936%20konrad%20zuse&f=false
1957 – The Ryan X-13 Vertijet took off from Edwards Air Force base flew for a few minutes and landed. The significant part of the short flight was that it took off and landed vertically, becoming the first jet capable of doing so.
http://www.whiteeagleaerospace.com/ryan-x-13-vertijet/
1970 – The ill-fated Apollo 13 launched from Kennedy Space Center. The second-stage inboard engine shut down early but orbital insertion was achieved. However the problems were not over.
http://www.lpi.usra.edu/lunar/missions/apollo/apollo_13/overview/
2012 – Pebble launched its smartwatch Kickstarter. It would become successful and lead to the resurgence of interest in smartwatches.
http://www.kickstarter.com/projects/597507018/pebble-e-paper-watch-for-iphone-and-android
2017 – Microsoft officially ended support for Windows Vista on the same day it launched its Windows 10 Creators update.
https://www.theverge.com/2017/4/11/15241580/microsoft-windows-vista-end-of-support
Read Tom's science fiction and other fiction books at Merritt's Books site.