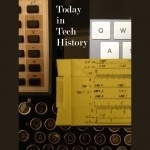 In 2001 – Dennis Tito became the first "space tourist" in human history paying his own way to the International Space Station aboard a Russian Soyuz spacecraft.
In 2003 – Apple opened the iTunes Music Store with 200,000 songs at 99 cents a piece. Songs could play on any iPod and up to three authorised Macs. Windows users were out of luck but tracks could be burned to unlimited numbers of CDs.
In 2003 – Apple unveiled the "third-generation" iPod. The new iPods were thinner and featured the bottom Dock Connector port rather than the top-mounted FireWire port. The iPod controls also became entirely touch sensitive.
Subscribe to the podcast. Like Tech History? Get the illustrated Year in Tech History at Merritt's Books site.