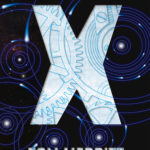 If you notice over there on the side of the site, there's a box from Inkshares about a new book from me called "Pilot X."
The idea with Inkshares is YOU decide what books they publish. If 750 people preorder a book it gets published, edited, marketed and put into bookstores. Just like any other publisher.
Pilot X is about the pilot of a timeship who finds out his people are involved in a time war and he might be the only one who can stop it. Though it might wipe out his own civilization.
You can read more, including sample chapters, at the Inkshares page.
Go take a look, and if you like it, preorder it!
Thanks!