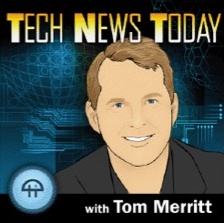 I'm happy to announce that my new show, Tech News Today, on Leo Laporte's TWiT network will debut on June 1. I'll record it live at 5:30 Eastern/2:30 Pacific every day Mon-Fri (just in time for evening drive time on the east coast).
Here's a few other things to know about the show:
– I'll have a co-host which will be in rotation for now. Probably a lot of Leo at first, but more to come on this!
– TNT will be put out as an audio podcast by 5:30 pacific, with video a few hours later.
– People will be able to watch it live by going to http://live.twit.tv, Justin.tv, or Ustream. They can listen to it live on http://live.twit.tv, at http://twit.am or in the iTunes radio listings. They can listen or watch live from the TWiT iPhone app or the TWiTpad app, and also in the ustream apps on the iPhone OS and Android OS. Additionally, if they go to Live.twit.tv on their iPhone/iPad, they can watch live using 3G – no wi-fi needed.
-The show will be around 30-40 minutes.
– You can send email to [email protected], which is already set up.