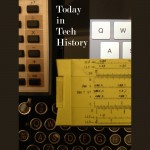 1930 – The first roll of waterproof, transparent, pressure-sensitive tape was sold. Its brand name "Scotch" has become synonymous with cellophane tape.
1966 – The TV show Star Trek made its network television debut with the episode "The Man Trap". Star Trek would have a profound influence on future technology thought and design.
2004 – NASA's unmanned spacecraft Genesis crash-landed when its parachute failed to open.
Read Tom's science fiction and other fiction books at Merritt's Books site.