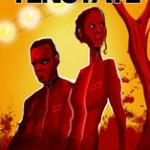 Last year Len Peralta and I put out five issues of a comic called TenState. It was about what happened when ten reality show contestants, from different political and religious backgrounds, were shut inside a biodome for the finals of their show and suddenly, disaster strikes. The stakes of learning to cooperate went from making good TV to survival.
We used Kickstarter to fund those first issues and now they're available in print and as digital editions from Comixology. Since then, we've all come to know Patreon as a way to fund creative endeavors. Patreon is perfect for something like episodic comics. You can pledge per issue and you'll get the issue. Simple. We don't put out an issue, it doesn't cost you money.
I cannot wait to tell more of this story. We've lined out four "seasons" of content and the layers will just keep peeling away.
But we need enough people to pledge per issue in order to get started. So if you're interested in seeing new issues of TenState, head over to patreon.com/lenperalta.