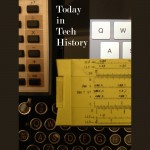 1888 – George Eastman was issued US. patent No. 388,850 for his roll-film box camera.
1956 – IBM introduced the IBM 350 disk storage unit for the RAMAC 305, the first commercial computer to use magnetic disk storage.
1998 – Larry Page and Sergey Brin filed for incorporation of Google, allowing them to cash a $100,000 check Andy Bechtolsheim, co-founder of Sun, had written to Google Inc.
2013 – Samsung announced a smartwatch called Galaxy Gear that could only be used with its own phones and tablets that ran Android 4.3.
Read Tom's science fiction and other fiction books at Merritt's Books site.