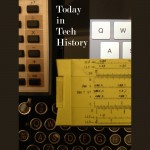 1882 – Thomas Edison's first commercial hydroelectric power plant began operation on the Fox River in Appleton, Wisconsin.
http://www.americaslibrary.gov/jb/gilded/jb_gilded_hydro_1.html
1954 – The USS Nautilus, the first nuclear submarine, was commissioned at Groton, CT.
http://www.ussnautilus.org/nautilus/index.shtml
1980 – Xerox published the Version 1.0 specifications for Ethernet in conjunction with Intel and Digital Equipment Corporation.
https://books.google.com/books?id=ioTFBAAAQBAJ&pg=PA167&lpg=PA167&dq=september+30+1980+xerox&source=bl&ots=r3kou4ggPv&sig=OUXVYAGcJqugpSYCnlNMjBc5Rwk&hl=en&sa=X&ved=0CD0Q6AEwBmoVChMI2Y3vuazvxwIVxDOICh22CAro#v=onepage&q=september%2030%201980%20xerox&f=false
2014 – Microsoft announced its next operating system would be called Windows 10, not Windows 9 and would arrive sometime in 2015.
http://live.theverge.com/microsoft-windows-9-event-live-blog/
Like Tech History? Get the illustrated Year in Tech History at Merritt's Books site.