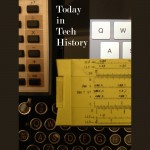 1920 – The Joseph Horne department store in Pittsburgh ran an advertisement in the Pittsburgh Sun, describing wireless Victrola music being picked up by radio. Amateur Wireless Sets were on sale for $10.
http://books.google.ca/books?id=bOo6Pj437KcC&pg=PA30&lpg=PA30&dq=september+29+1920+joseph+home+department+store&source=bl&ots=jNE7alxyrl&sig=cCNgYJ9p_ARyYDax18tNwjx1VHY&sa=X&ei=5uwuUMnaMcm1rQG3yYHYAQ&redir_esc=y#v=onepage&q=september%2029%201920%20joseph%20home%20department%20store&f=false
1954 – CERN officially came into being. In addition to countless advancements in science, it would go on to foster the invention of the World Wide Web.
http://international-relations.web.cern.ch/International-Relations/ms/
1994 – Programmers first demonstrated the HotJava prototype browser to executives at Sun Microsystems Inc. It was an attempt to port the Java language to the Web. It worked.
http://papa.det.uvigo.es/~theiere/cursos/Curso_Java/history.html
1995 – The Sony PlayStation went on sale in Europe.
http://thenextweb.com/media/2015/09/09/playstation-turns-20-in-the-u-s-heres-a-look-back-at-the-consoles-evolution/
1996 – The Nintendo 64 launched in North America spreading its 3D world controlled by an analog stick to a new continent.
http://www.ign.com/articles/2011/09/24/nintendo-64-launching-a-legacy
2015 – Google announced the Nexus 5X and 6P phones, new Chromecast and Chromecast Audio, and an Android tablet called the Pixel C.
http://thenextweb.com/google/2015/09/29/everything-google-announced-today-at-its-nexus-2015-event/
Read Tom's science fiction and other fiction books at Merritt's Books site.