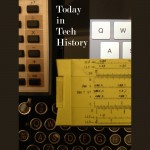 1889 – Fusajiro Yamauchi founded Nintendo Koppai in Kyoto, Japan, to manufacture hanafuda, Japanese playing cards. Mario came much later.
1999 – NASA lost contact with the Mars Climate Orbiter. It began orbit normally, but after it went behind the planet and out of range, it never made contact again. It was later determined that the approach attitude was wrong because software put out imperial units instead of metric units.
1999 – Two years after its founding, Netflix launched its subscription DVD rental service which proved much more popular than renting DVDs individually by mail.
2002 – Mozilla Phoenix 0.1 was released. It was the first public version of the web browser, that would become Mozilla Firefox.
2008 – The T-Mobile G1 launched, the first phone to use Google's Android OS, as it began it's competition against the barely year-old iPhone.
Read Tom's science fiction and other fiction books at Merritt's Books site.