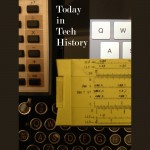 1890 – Louis Le Prince boarded a train to Paris at Dijon station. Neither he nor his bags ever arrived and his disappearance was never solved. In 188 he had patented a system for taking 16 pictures a second and playing them back as a moving picture.
https://web.archive.org/web/19991128020048/http://www.bbc.co.uk/education/local_heroes/biogs/biogleprince.shtml
1959 – The first successful photocopier, the Xerox 914, was introduced at the Sherry-Netherland hotel in New York City. One of them caught fire. The demo that was carried live on television did not catch fire.
http://books.google.com/books?id=ZYurhbUh_2gC&pg=PA61&dq=#v=onepage&q&f=false
1985 – Steve Jobs spent his last day as an employee of Apple after submitting his resignation to the board.
http://gizmodo.com/5639822/25-years-ago-today-steve-jobs-left-apple
1997 – After purchasing NeXT the previous December, bringing Steve Jobs back to the company, the Apple Board named Jobs as interim CEO, replacing Gil Amelio.
http://techcrunch.com/2008/09/16/today-in-history-steve-jobs-returns-to-apple/
Read Tom's science fiction and other fiction books at Merritt's Books site.