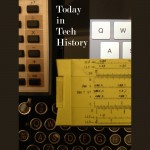 1893 – A US. copyright was issued to William K. L. Dickson for a "publication" consisting of "Edison Kinetoscopic Records." It was the first motion picture copyright in North America. No torrents were uploaded until much later.
http://memory.loc.gov/ammem/edhtml/edtime.html
1914 – Edwin H. Armstrong received a US patent for a "Wireless Receiving System" which described his famous regenerative, or feedback, circuit. Armstrong would go on to pioneer FM radio.
http://www.google.com/patents?id=-RhkAAAAEBAJ&printsec=abstract&zoom=4#v=onepage&q&f=false
1927 – Al Jolson appeared on a movie screen in New York City and said for all to hear "Wait a minute, wait a minute, you ain't heard nothin' yet." It was the first talkie.
http://www.imdb.com/title/tt0018037/
2014 – HP announced it planned to split into two companies. Hewlett-Packard Enterprise would become an IT company with all of HP's enterprise level offerings. HP Inc. would take the existing logo and the personal systems and printing divisions.
http://www8.hp.com/us/en/hp-news/press-release.html?id=1809455#.VDLYvyldXA5
Read Tom's science fiction and other fiction books at Merritt's Books site.