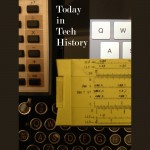 1675 – Gottfreid Leibniz wrote the integral sign in an unpublished manuscript. It's a sign that would later haunt the nightmares of students and be widely misapplied on blackboards in movies. So happy Integral Day!
http://books.google.com/books?id=bOIGAAAAYAAJ&pg=PA166&lpg=PA166&dq=leibniz+writes+integral&source=bl&ots=U_vboOt1rM&sig=ojXqmr8IEIWcrbOdC2UlM94fW5g&hl=en&ei=uyWbTr2dCdHbiALn_f3WBg&sa=X&oi=book_result&ct=result&resnum=4&ved=0CDMQ6AEwAw#v=onepage&q=leibniz%20writes%20integral&f=false
1969 – The first ever computer to computer link was established on the ARPANET. UCLA student Charley Kline sent the characters l and o to Stanford. The connection crashed before he could finish sending 'login'. The Internet has been crashy right from the start.
http://newsroom.ucla.edu/releases/birthplace-of-the-internet-celebrates-111333
http://en.wikipedia.org/wiki/File:First-arpanet-imp-log.jpg
1988 – Sega launched the Mega Drive console in Japan. It would be released elsewhere in the world later as the 'Genesis.'
http://www.usgamer.net/articles/the-true-16-bit-experience-segas-genesis-turns-25
1998 – The Space Shuttle Discovery blasted off on STS-95 with 77-year old John Glenn on board, making him the oldest person to go into space.
http://www.nasa.gov/mission_pages/shuttle/shuttlemissions/archives/sts-95.html
2012 – Apple announced Scott Forstall would leave the company in one year, and that retail head John Browett had left the company as well.
http://www.apple.com/pr/library/2012/10/29Apple-Announces-Changes-to-Increase-Collaboration-Across-Hardware-Software-Services.html
2013 – Motorola announced its modular phone project called Project ARA. It would end up becoming Google's project after Google sold Motorola.
http://www.engadget.com/2013/10/29/motorola-project-ara-modular-smartphone/
Read Tom's science fiction and other fiction books at Merritt's Books site.