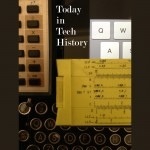 1884 – US inventor George Eastman received a patent on his new paper-strip photographic film. It would reign for more than 100 years until digital stole its thunder.
http://www.uspto.gov/news/pr/2001/01-44.jsp
1977 – The Atari 2600 was released in North America, though it may have been available in Macy's and Sears on September 11.
http://games.yahoo.com/blogs/plugged-in/happy-35th-atari-2600-175216071.html
1985 – The first official reference guide for the C++ programming language was published. It was written by the language's creator, Bjarne Stroustrup.
http://www.wired.com/thisdayintech/2010/10/1014cplusplus-released/all/1
1996 – Matthias Ettrich posted about his new project Kool Desktop Environment, or KDE, attempting to create a GUI for the enduser of Linux.
https://www.kde.org/announcements/announcement.php
Read Tom's science fiction and other fiction books at Merritt's Books site.