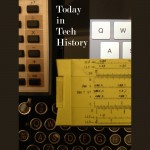 1932 – The FBI Scientific Crime Detection Laboratory (known then only as the Technical Crime Laboratory) officially opened in Washington DC. It's location was chosen because it had a sink, and its one employee, Agent Charles Appel had to borrow a microscope.
1969 – The Apollo 12 command module with its all-Navy crew splashed down safely in the Pacific Ocean, ending the second manned mission to the Moon. Credit goes to the USS Hornet for its second flawless recovery effort.
1998 – AOL announced it would purchase Netscape Communications, merging what were then two of the biggest names on the Internet.
2014 – Attackers calling themselves "Guardians Of Peace" hacked into Sony Pictures Entertainment's internal networks, stealing data, deleting data, and placing a message and an image of a red skeleton on computer desktops throughout the company.
Read Tom's science fiction and other fiction books at Merritt's Books site.