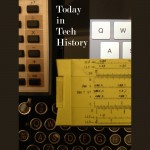 1851 – The first public message was sent on the submarine telegraph cable under the English Channel between Dover, England and Calais, France.
http://books.google.com/books?id=6nM0AQAAMAAJ&pg=PA21&lpg=PA21&dq=november+13+1851+submarine+telegraph&source=bl&ots=71yU-Y_Dva&sig=mZmBJzfqw9fKkwaYU-4xVL_v-5k&hl=en&sa=X&ei=XZJ6UvetBMGRiAL1noGIBA&ved=0CDYQ6AEwAQ#v=onepage&q=november%2013%201851%20submarine%20telegraph&f=false
1982 – 15-year-old Scott Safran of Cherry Hill, New Jersey set the world record score on Asteroids. His record stood for 27 years, the longest-running high score in videogame history.
https://www.wired.com/2010/04/asteroids-record/
1983 – The MIT TX-0, an experimental transistorized computer, was brought back to life for the last time at The Computer Museum in Marlboro, Massachusetts.
http://www.computerhistory.org/tdih/November/13/
Read Tom's science fiction and other fiction books at Merritt's Books site.