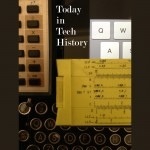 1941 – Electric eye detectors were first used to measure high-jumping height. A track meet of the Schenectady, NY, Patrolmen's Association used equipment designed by General Electric, comprising of a movable light source and four electric eyes.
http://books.google.com/books?id=9iYDAAAAMBAJ&pg=PA112#v=onepage&q&f=false
1943 – Chief consultant John Mauchly and chief engineer John Presper Eckert began leading the military commission on the new computer ENIAC. They would take one year to design the computer and 18 months to build it.
http://inventors.about.com/od/estartinventions/a/Eniac.htm
2006 – Swedish police raided The Pirate Bay website and shut it down. The site relaunched from servers outside Sweden.
http://torrentfreak.com/the-pirate-bay-five-years-after-the-raid-110531/
Read Tom's science fiction and other fiction books at Merritt's Books site.