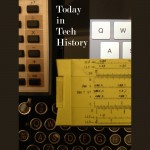 1919 – Sir Arthur Eddington led a team in Africa to observe the total eclipse, while another team observed it in Brazil, to measure how the sun bent star light during a solar eclipse. The results confirmed Einstein's theory of Relativity.
1935 – Workers poured the last concrete at the iconic Hoover Dam hydroelectric site. Four months later after the concrete was well and truly set, President Franklin Roosevelt dedicated the dam.
1992 – John Sculley introduced the Apple Newton at CES. The first one unveiled on stage had dead batteries and didn't work.
1999 – Space Shuttle Discovery completed the first docking with the International Space Station.
2015 – Google announced Levi's as the first partner for Project Jacquard, a way of weaving electronics into clothing to do things like turn cloth into a touchscreen controller.
Like Tech History? Get the illustrated Year in Tech History at Merritt's Books site.