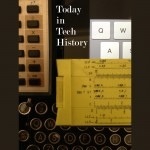 1931 – Jacob Schick began marketing his second electric razor. His first hadn't caught on because of the bulky motor. This time the more practical design became a hit.
http://learning.blogs.nytimes.com/on-this-day/march-18/
1965 – The Voskhod 2 launched and on the second orbit Cosmonaut Aleksei Leonov left the capsule (on purpose) for 12 minutes, becoming the first person to walk in space.
http://nssdc.gsfc.nasa.gov/nmc/spacecraftDisplay.do?id=1965-022A
1987 – Thousands of physicists crowded a ballroom at the New York Hilton at the meeting of the American Physical Society to hear speakers talk on high-temperature superconductivity. The session started in the evening and ran until 3:15 AM earning the nickname "Woodstock of Physics."
http://www.nytimes.com/1998/11/03/science/power-line-makes-use-of-a-miracle-of-physics.html
2015 – Sony launched its Internet TV service called PlayStation Vue in New York, Chicago and Philadelphia. For $50 a month subscribers got around 50 channels plus the ability to record shows in the cloud for up to 28 days.
http://www.nytimes.com/2015/03/19/business/media/sonys-playstation-vue-is-introduced-in-3-cities.html
Read Tom's science fiction and other fiction books at Merritt's Books site.