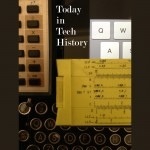 1896 – Henri Becquerel discovered images of uranium rocks had appeared on a photographic plate without exposure to the sun. He had discovered natural radiation.
http://www.earthmagazine.org/article/benchmarks-henri-becquerel-discovers-radioactivity-february-26-1896??
1995 – A little over a year after starting the website in January 1994, Jerry Yang and David Filo incorporated Yahoo!
http://www.cjr.org/the_kicker/and_thats_the_way_it_was_march.php?
2006 – English-language Wikipedia reached its one millionth article, "Jordanhill railway station."
http://wikimediafoundation.org/wiki/Press_releases/English_Wikipedia_Publishes_Millionth_Article?
2016 – Astronauts Mikhail Kornienko and Scott Kelly landed safely in Kazakhstan after spending a record 340 days aboard the International Space Station.
http://www.nasa.gov/press-release/nasa-astronaut-scott-kelly-returns-safely-to-earth-after-one-year-mission?
Read Tom's science fiction and other fiction books at Merritt's Books site.