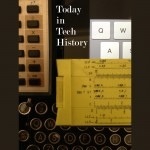 1954 – Computer science hero Alan Turing died. His death was ruled a suicide from eating an apple containing cyanide. Turing formulated the famous Turing test and broke code at Bletchley park during World War II.
1975 – Sony introduced the Betamax video recorder for sale. It would lose the format war to VHS but find a niche in broadcast production.
1980 – The first US solar power plant was dedicated at the Natural Bridge National Monument, Utah.
Like Tech History? Get the illustrated Year in Tech History at Merritt's Books site.