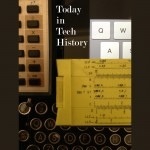 In 1897 – Karl Elsener received a design patent for his "soldiers' knife" for use by the Swiss army. The original had a wooden handle, a blade, a screwdriver and a can opener.
In 1936 – The first radio station with 500,000 watt power began testing as W8XAR in Pittsburgh, Pennsylvania. Test broadcasts took place from 1 AM to 6 AM. The station is now known as KDKA.
In 1997 – 3Com Corp. and US. Robotics Corp. merged. The two companies combined US Robotics modems with 3Com's interface cards.
Like Tech History? Get the illustrated Year in Tech History at Merritt's Books site.