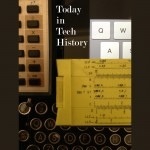 1886 – Karl Benz drove his Patent Motor Wagen on Mannheim's Ringstraße, reaching a top speed of 16 km/h (10 mph) powered by a 0.75-hp one-cylinder four-stroke gasoline engine. It was the first public drive of what is considered the first purpose-built automobile.
https://www.mercedes-benz.com/en/mercedes-benz/classic/history/benz-patent-motor-car/
1998 – Danielle Bunten Berry died of lung cancer. She was a pioneering game designer most famous for creating the multiplayer game M.U.L.E. in 1983.
http://encyclopediaofarkansas.net/encyclopedia/entry-detail.aspx?entryID=4524
1999 – At the Funspot Family Fun Center in Weirs Beach, New Hampshire, Billy Mitchell became the first ever to achieve a perfect score on Pac-Man.
http://funspotnh.com/-Articles/pc-billymitchell.htm
Read Tom's science fiction and other fiction books at Merritt's Books site.