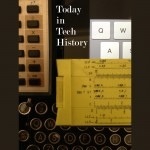 1975 – Xerox announced its withdrawal from computer mainframe manufacturing. The company did indicate it would continue activities in other computer-related businesses like computer disk drives, serial printers, and apparently giving away secrets to companies like Apple and Microsoft.
2002 – WorldCom filed for the largest Chapter 11 bankruptcy in US history. It was the number two long-distance phone company, at a time when that still meant something. It would end up changing its name back to MCI, and its remains exists as Verizon's business division.
2011 – The Space Shuttle Atlantis landed at Kennedy Space Center's Shuttle Landing Facility, Runway 15, ending the US space shuttle missions.
Read Tom's science fiction and other fiction books at Merritt's Books site.