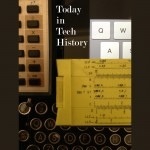 In 1939 -John Dunning's Cyclotron split the uranium atom for the first time at Columbia University in New York City. And the Manhattan Project was on.
In 1968 – Apollo 5 lifted off carrying the first Lunar module into space.
In 1984 – Apple aired the famous "1984" commercial for the Apple Macintosh, directed by Ridley Scott.
Subscribe to the podcast. Like Tech History? Get the illustrated Year in Tech History at Merritt's Books site.